Amid Continues desertions and a Slew of dramatic political developments in UP. The ruling BJP witnessed some new entrants into its Camp.
Starting from Kanpur police commissioner Asim Arun. Followed by Apna Dal and Nishad party's entry into the party.
In the past, the party experienced huge setbacks. After its 2 Cabinet Ministers and several sitting MLA's stepped down from their respective posts. Citing negligence towards Dalit, Backward, and minority community leaders.
Ahead of the upcoming Uttar Pradesh election. The BJP on Wednesday announced its allies- The Nishad Party and The Apna Dal.
आज श्री @JPNadda जी, श्री @myogiadityanath जी व यूपी के सहयोगी दल श्रीमती @AnupriyaSPatel जी और श्री संजय निषाद जी के साथ बैठक की।

उत्तर प्रदेश की जनता का आशीर्वाद NDA के साथ है और पीएम श्री @narendramodi जी के नेतृत्व में NDA गठबंधन की प्रचंड बहुमत से सरकार बनने जा रही है। pic.twitter.com/DuqyYWkTnT

— Amit Shah (@AmitShah) January 19, 2022
"Great cocktail of development and social justice"- Apna Dal leader Anupriya Patel
Expressing Joy over the Episode BJP national president Jagat Prakash Nadda said. "we are allying with them for all 403 seats in the UP Assembly "
Both the allies Apna Dal(s)  and Nishad Party, representing eastern UP's OBC communities, were former allies of the BJP in the state; the Apna Dal (S) has been an ally since 2014 and the Nishad Party since 2019.
Talking to reporters over the alliance " BJP in UP is with NDA (National Democratic Alliance) partners for the upcoming election. We were together for Lok Sabha too. Detailed discussions are done. Following which are allying with them for all 403 seats (in the Uttar Pradesh Assembly) "
Apna Dal leader Anupriya Patel, a junior Union Minister, and Lok Sabha MP said "Great cocktail of development and social justice"
Calling the BJP-Apna Dal-Nishad Party alliance Anupriya Patel said " We have always struggled for justice for the common man. With PM Modi we realize that we can strengthen social justice… issues like OBC commission…reservation for backward classes… we are getting support from this government. So this alliance will be taken forward in 2022 "
Similarly, Sanjay Nishad Cheif of the Nishad Party expressing concern over the episode said. " Backward classes were being betrayed and orphaned. Only meager reservation in jobs was there but this government helped… gave it in educational institutions too. In UP, parties kept changing but backward classes' conditions did not resolve  "
Late CDS General Bipin Rawat's brother  Vijay Rawat joins BJP-
Late CDS General Bipin Rawat's younger brother Colonel (retired) Vijay Rawat joins the Bharatiya Janata party earlier today ahead of Uttarakhand elections 2022. Colonel Vijay Rawat joined BJP in the presence of Uttarakhand chief minister Pushkar Singh Dhami.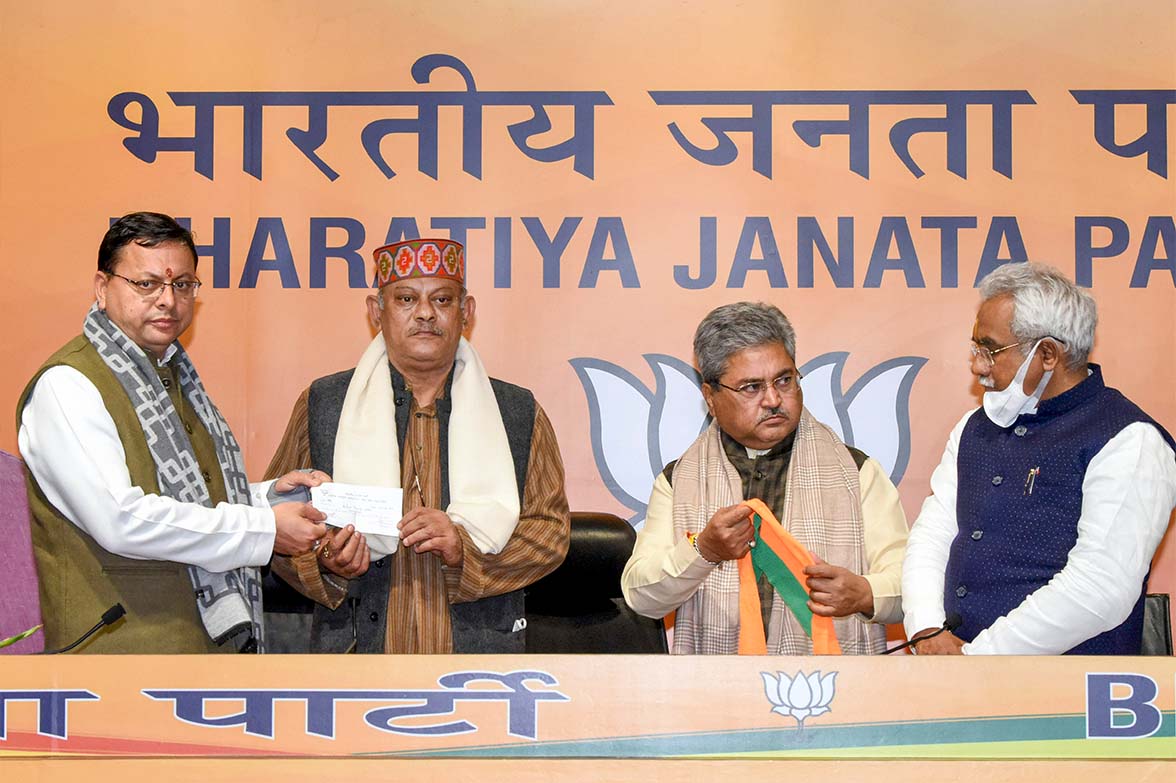 Meanwhile, Colonel Rawat following the entry into the party said. "I'm grateful for the opportunity to join Bharatiya Janata Party. My father was with BJP after retiring & now I've got a chance. PM Modi's vision & thinking is very wise & futuristic,".
" I like Pushkar Dhami's vision for State. It matches what my brother had in his mind. BJP has the same mindset," he added.