The five girls of a pre-university college in Karnataka's coastal district Udupi were denied entry for classes for wearing Hijab Following warnings and protests from the Hindu Jagarana Vedike. A day after the news went viral the girls from the Government college started protesting holding placards.
Meanwhile, besides the episode on the other day heated debate erupted among people of the districts. Amid disputes, In order to seek a resolution to this issue. A meeting was organized to bring an end to this controversy. But it failed to bring any solution to the existing controversy.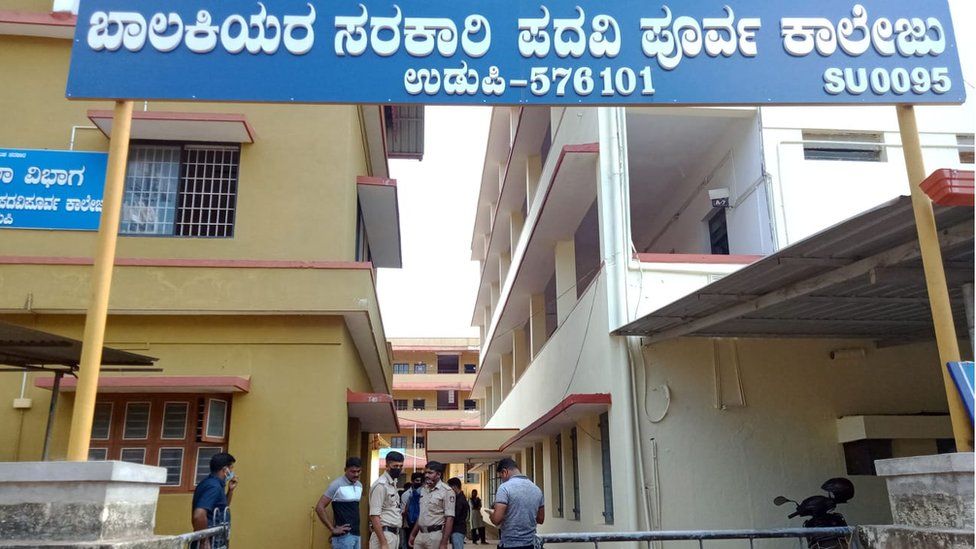 The five girls are holding placards as a mark of protest against the decision to not allow them to wear Hijabs in classes.
Udupi Hijab row sparks controversy across the country
Meanwhile, As the Hijab (HeadScarf) row at the Government PU College for Girls in Udupi in Karnataka remains unresolved and constant controversial debates over social media. Subsequently, The  Hindu Jagarana Vedike (HJV) has warned the government of coming up with a saffron shawl campaign in all educational institutions in the district "if Muslim girls continue to wear Hijabs"
Expressing grief over girls wearing Hijab in educational institutes. HJV Mangaluru division general secretary Prakash Kukkehalli said. "If hijab is allowed, Students of Hindu faith will attend classes by wearing saffron shawls in schools and colleges in the twin districts."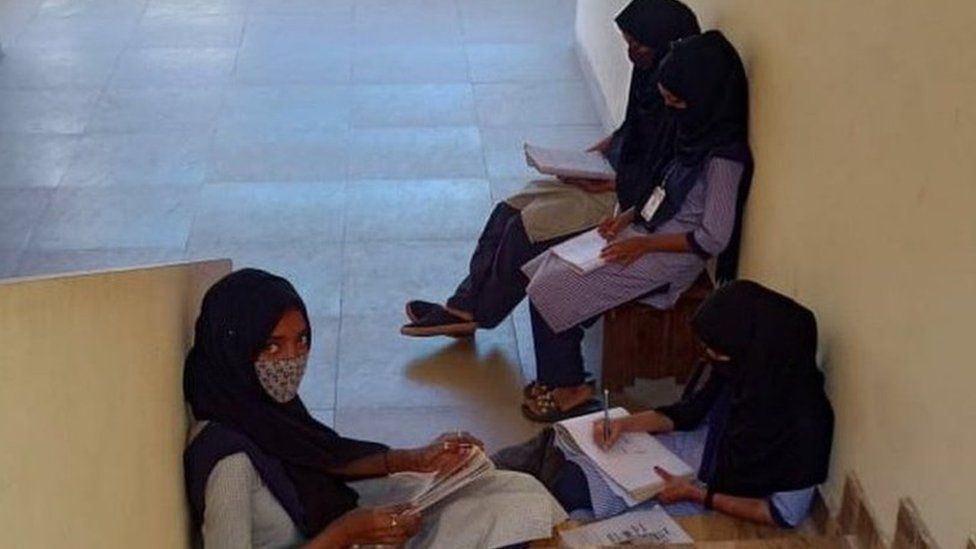 Furthermore, he said, " They are now demanding permission to wear a hijab during class, and in future, they may seek permission to wear skull caps and burqas on premises of educational establishments,".
NSUI submits memorandum to the Udupi deputy commissioner M Kurma Rao
" In the meantime, Communal organizations are trying to portray the episode in the district as an international issue. Against which. We will launch a campaign of Hindu students wearing saffron shawls in all schools and colleges in the district. However, if the government bows down to the pressure tactics of religious organizations," He added,
Meanwhile, a contingent of the National Students Union of India (NSUI) Karnataka state committee. Visited the college in Udupi to meet the principal in order to discuss the hijab row.
Moreover, the college remains closed on Friday after a few students tested positive for Covid-19.
While Countering the HJV The NSUI said. "The fundamental rights of Muslim girl students are denied by banning hijabs in the college,". Following the meeting. The NSUI delegation gave a memorandum. To the Udupi deputy commissioner M Kurma Rao to allow Muslim girls to wear a hijab during classes.
NSUI state vice-president Farooq Bayabe said that the organization will file a writ petition in the high court.