Our favorite James Bond has been honored with a Hollywood Walk of Fame star!
Daniel Craig's journey as James Bond
Daniel Craig, 53, has played 007 since 2006 but No Time To Die was his final film as the spy.
A week after the release of James Bond, Craig becomes the 2,704th celebrity to have his name on 7007 Hollywood Boulevard in Los Angeles.
The movie releases in the UK on Sept 31 and earns the highest opening weekend takings of any Bond movie in the UK.
Ceremony of the Hollywood Walk of Fame star
Daniel Craig's star was unveiled in a rare evening ceremony.  It has been introduced by Bond producers Michael G Wilson and Barbara Broccoli, as well as No Time To Die co-star Rami Malek.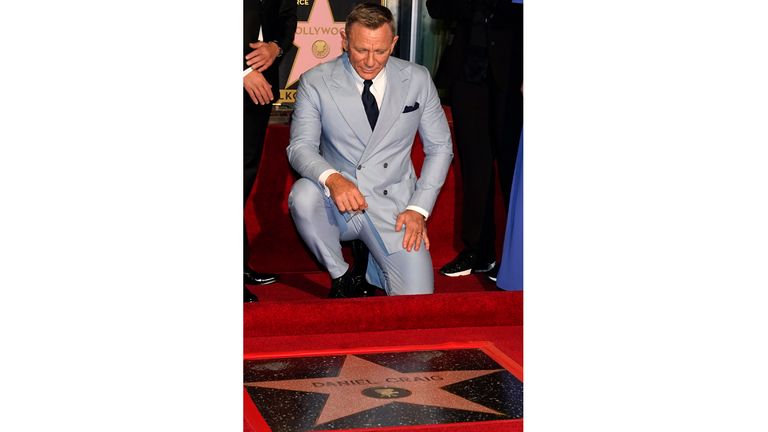 Daniel Craig's reaction to the star
Craig, who nails the role of James Bond since 2006, said," it is an absolute honor to walk all over in Hollywood."
"To Michael Wilson and Barbara Broccoli, I thank you from the depth of my heart. Without you I would not be here today, thank you for those lovely words. Thank you to Rami for those beautiful, beautiful words," he said.
What is the Hollywood Walk of Fame star?
The Hollywood Walk of Fame comprises 2,704 five-pointed terrazzo and brass stars embedded in the sidewalks along 15 blocks of Hollywood Boulevard and three blocks of Vine Street in Hollywood, California. The stars are permanent public monuments to achievement in the entertainment industry. Bearing the names of a mix of musicians, actors, directors. Producers, musical and theatrical groups, fictional characters are also a part of it.
Nomination Process
Each year an average of 200 nominations have to submit to the Hollywood Chamber of Commerce Walk of Fame selection committee. Anyone, including fans, can nominate anyone active in the field of entertainment.  The nominee or their management approves the nomination. Nominees need a  minimum of five years' experience in the category for which they have to nominate themselves. History of "charitable contributions" is also a need.